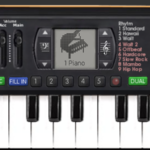 I am proud to announce the release of our new app "Music Keyboard!" If you ever wondered, if you could use your smartphone as a musical instrument, well, there is the answer:

Multi touch: You can play up to 30 sounds at the same time!
Fast reaction times of the keys using multi threading.
Small screen, big fingers? Or tablet virtuose? You choose the amount of keys on the keyboard!
4 instruments (11 on pro)
3 rhythms (9 on pro)
Split Mode: Split the Keyboard in the middle so your left and right hand play different instruments!
Dual Mode: combine two instruments into a new one!
Record a piece of art into one of the 5 recording slots – play them back at any time, even together!
You can find the app on PlayStore: